Manchester has a light rail network known as the
Metrolink
. It is a busy and well used system currently undergoing a period of expansion to outlying areas of Greater Manchester. Bicycles have been banned on carriages since its creation (
conditions of carriage 17a
). This extends to folding bicycles as well unless they are in a bag. While this may at first seem sensible to ensure maximum space is kept for passengers, the restriction limits the ability of commuters to cycle to
and
from stops and so have a joined up transport solution for commuting purposes. This will be felt particularly keenly on the expanded system as it will replace existing rail lines which
do
allow cycles to be carried.
Metrolink. Current and planned lines. Click for bigger image


Many light rail systems allow the carriage of folded and unfolded bicycles, with certain conditions, including the
London Underground system
. In 2010 Manchester Friends of the Earth
campaigned to reverse the Metrolink ban
on folding bicycles by demonstrating folding items which are permitted. These items included ironing boards and deckchairs! While these are not likely to be everyday objects carried on the Metrolink, the campaign was successful in gaining a review of the ban even though the restriction was not subsequently changed.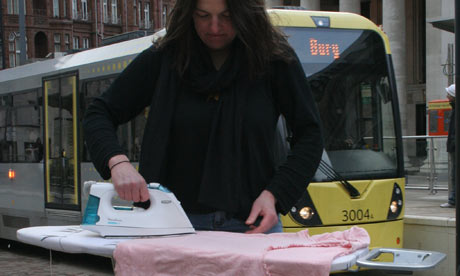 Friends of the Earth campaign
Luckily I can commute by bicycle without the need for a rail/tram link. Although I live next to a Metrolink station and work is 10 mins away from one just a few stops down the line, I can get there by bike in four miles. Sometimes I even take a longer route just for the fun of it. Using a bicycle to get to and from a Metrolink stop makes no sense for me.
I understand why people do want to mix cycling and public transport and despair of the those who are willing to drive a short distance to a station instead. I have every sympathy though with those who object to non folded bicycles being taken on carriages at busy times. My ideal would be for all bicycles to be allowed on the system at off peak times and feel the need for folding bicycles to be carried in a bag is an unnecessary hurdle.
So knowing the restrictions, I was a little nervous when I took my borrowed Brompton (without bag) on the Metrolink the other evening. I had cycled from work to the joint
Greater Manchester Cycling Campaign
and
Wheelers Brunch
Christmas meal. The Brompton was used as I didn't want to leave my nice big bike locked up in Manchester city centre for any length of time. Plus, I thought no one would object to a folding bike at a cycle campaign meeting.
Anyway, no one did. The bike folded up out of the way and a very nice evening was had. When the time came for me to make my way home, I was less inclined to cycle than normal, no doubt due to the meal + several beers + the very cold, blustery weather. No problem I thought, I am right next to a city centre Metrolink stop and have a folding bike.
I cycled to the platform and folded the Brommie. One comment was forthcoming from a fellow traveller along the lines of how impressive the fold was and then I was on the tram. No one objected to the bike, which was a lot smaller than several suitcases and a wheeled shopping bag in the carriage. A few stops along a team of inspectors boarded. I thought I would have some hassle but they totally ignored it and concentrated on checking tickets instead.
Despite breaking the conditions of carriage and no doubt giving material to those who think cyclists are agents of the Devil, do I have any regrets? Well the short answer is no. Restrictions should be in place for good reason and I do not see any why folding bikes should be bagged. Chances are I won't be using the Metrolink in combination with Brommie any time soon but call me a rebel - I am willing to make a stand on this point and be ejected if it comes to it!
Bag it up?